Becoming a Real Estate agent offers many benefits to those of us who want to be self-employed. We can set our own hours and manage all areas of our business from marketing to accounting. Really, we don't answer to anybody. Yes, many benefits... maternity leave is not one of them.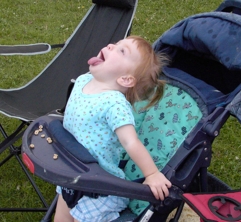 When Andrea Y. found out she was expecting she was ecstatic. The one thing that did bother her was the cost of her Real Estate fees during her maternity leave.
"Having a baby is an expensive prospect." Says Andrea, "Taking a year off when I only recently started my Real Estate business was going to be tough on the family finances."
Andrea was paying her regular monthly expenses to a traditional big Brokerage. The costs were a large concern going into a 10-12 month maternity leave. "I didn't want to give up my license, and I had a few clients that I wanted to refer. I didn't want to give up the referral commission."
That's when Andrea decided to park her license. "Parking my license allows me to still refer people to an active agent and collect the referral commission. The fees are really affordable and I don't have to pay Board or Association fees." Says Andrea. "Lesley and Karma Realty made the process really easy. Also, I am so busy and tired, I love that I recieve updates regarding when my CE credits, Insurance are due and other information.".
What can you do to plan for your maternity leave from Real Estate?
1. Many reps don't know how to leave and end up working full or part time and not taking leave. What do you want to do? Do you want time at home with your new babe? How much time? Do you have someone to care for the baby when you are working? How does your spouse feel about it.
2. If you decide to leave for more than a few weeks, find a rep that you are comfortable leaving your business with. Have coffee. Get a feel for the type of customer service that the rep provides. Does it align with your business? Will your clients be treated properly so that they will still think well of you? Your reputation is important, protect it!
3. Decide if you will continue to pay the fees you are paying, or if you are going to park. Brokers are people too. They will understand if you need to leave for a period. Discuss it with them, and see how they feel about you coming back afterward.
4. If you decide to park your license, and have questions, contact us to see how we can help! Congratulations!